Accelerate your cybersecurity program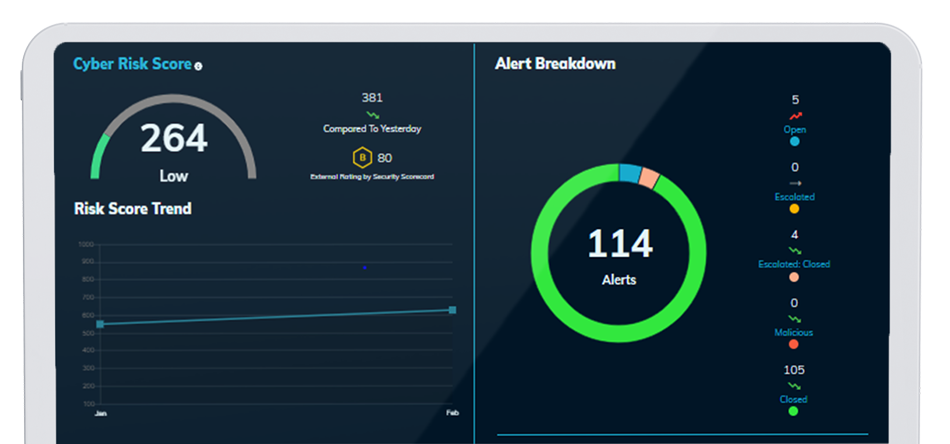 AgileBlue's Partner Program Sign-On Bonus
Our relationship with our partners is how we define our success and direction as an organization. We are very proud to be part of this community and fully support our partners in the channel. We've designed this program specifically to engage, enable, support, and reward your business growth. The program is relevant for all types of partners and helps to build your brand by offering a white-label security dashboard, marketing collateral, and purpose-built sales content. 
By signing up to be an AgileBlue partner, we are offering an enticing sign-on bonus. For more details around the bonus, please schedule a meeting with our team. Partners who register for the sign-on bonus must sign by September 30, 2022.  
AgileBlue Product Sheet
AgileBlue's SOC|XDR platform is proven to detect cyber threats faster and more accurately across your entire digital infrastructure and cloud. We provide 24×7 monitoring, threat detection and response to identify a breach before it occurs. Read about all AgileBlue has to offer in our product sheet.
Download Product Sheet
AgileBlue Partner Program Guide
We trust nothing, while detecting everything to your entire digital infrastructure. Our SOC is staffed with 24×7 expert threat hunters and cyber analysts who will obsess over you and your clients cybersecurity. Check out our Partner Program guide to learn about the benefits of joining the AgileBlue Partners!
Download Partner Program Guide

Client Risk Scoring
Monitor the activity your clients care about, ignore the stuff they don't. We customize your AgileBlue experience to analyze and detect exactly what you need it to. Each client gets a custom Cyber Risk Score that makes their security easy to understand.

SOC Live Chat
We believe availability and accessibility are critical in supporting a SOC-as-a-Service offering. That's why we have a live chat feature in our SOC portal. We even integrate with most 3rd party communication tools.

Custom Reporting
We know proving cyber risk is tough, and some clients don't think they have a problem. To help our Partners, we provide monthly reporting, as well as recommendations and tuning of alerts. Benchmarking is also an important piece – we do that too.

Sales and Marketing
If you've got the best tech on your side, you want to tell prospective clients about it. We'll help you market your business with webinars, events, and collateral. Need help with a product demo? We got you covered.

Multi-Tenant
Get full visibility of your client's data with our multi-tenant and white-label analytics portal. With real-time notifications and our silencer technology that boasts a 95% true positive rate, you can see under the hood of the SIEM and SOC activity.

Pooled Pricing
Security is a necessity; outrageous pricing is not. We give you fixed monthly costs with predictive revenue. Our pooled pricing model comes with no surprises and helps you provide services at scale.
Integrated Technology Partners
You give your clients the best of everything, so we give you an integrated cyber security operations center that can keep up. We pair well with market-leading commercial products and open-source technologies so you can rest assured that no endpoint goes unmonitored.
Become an AgileBlue Partner Today
Subscribe to our newsletter