Case Study: Bridging the Gap with AgileBlue
Featured Download
With cyber threats constantly evolving, businesses needed to be on their toes when it came to defending themselves. CommuniCloud partnered with AgileBlue to provide the perfect solution for their clients that had limited in-house resources and were looking for an external partner who can monitor for suspicious or malicious activity – 24/7. Read our latest case study to learn more.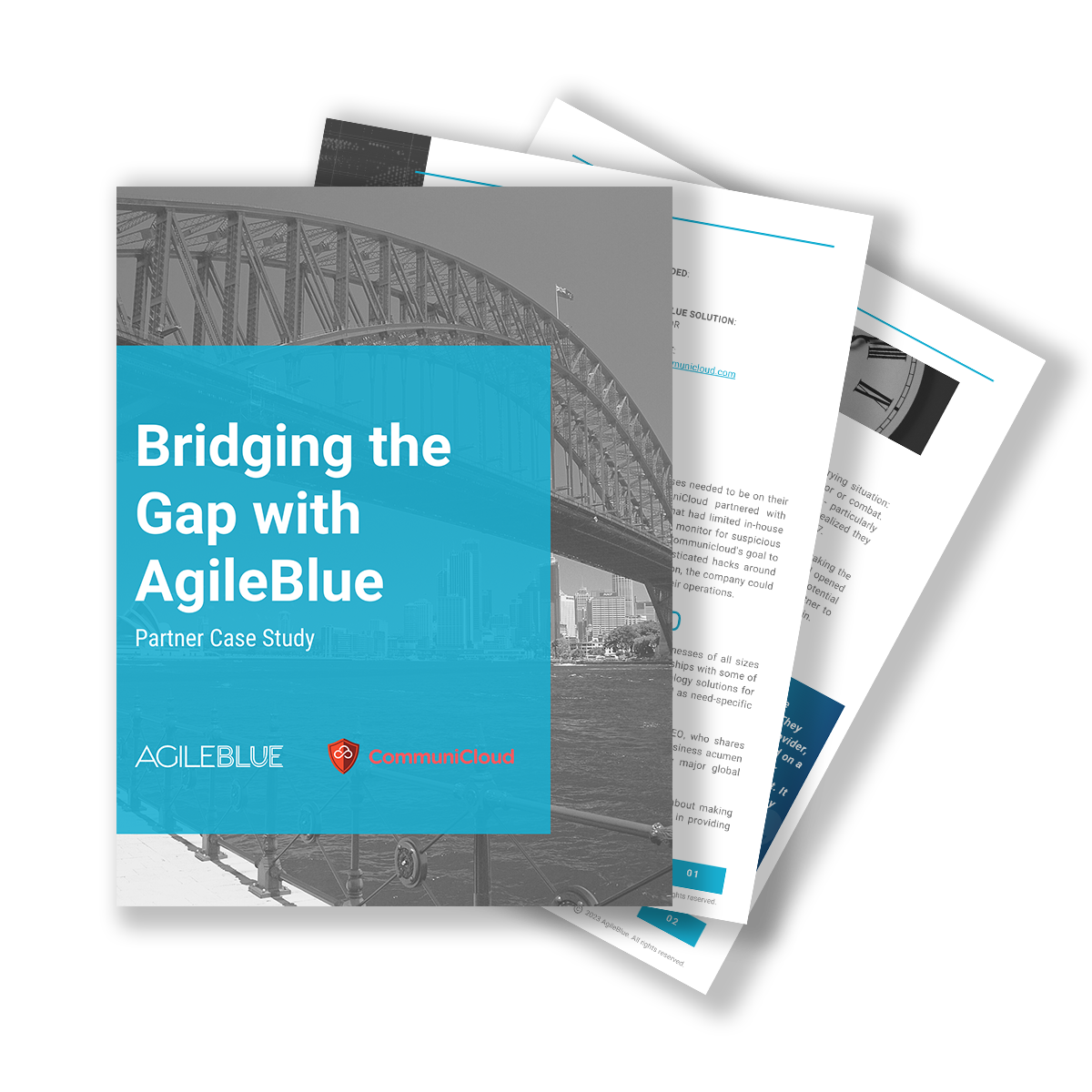 Automation is the Key of the Modern SOC + XDR Platform 
Featured Download
AgileBlue's 5 steps + 3 keys for cyber resilience and SOC efficiencies to transform security operations in combating advanced cyber-attacks. Within this whitepaper you will learn about the challenges for SOC in a future digitized and AI world, transitioning to cyber resilience, as well as the aforementioned 5 steps to achieving future SOC efficiencies and 3 keys for a successful SOC transformation. 
Videos, Blogs, Whitepapers and Press Releases
CLEVELAND, Ohio, May 31, 2023— AgileBlue, an autonomous Cyber Security Operations Center (SOC) and Security Orchestration and Automated Response (SOAR) platform, is thrilled to welcome Lee Buttke to their leadership team. Buttke joins AgileBlue as their Managing...
Boards that struggle with their responsibility to oversee cybersecurity can cause security issues for their organization. Despite stating that cybersecurity is a key priority, many boards have yet to effectively prepare their organizations for potential cyber-attacks....
As institutions of higher education continue to digitize their operations, the threat of cyber-attacks is becoming more and more prevalent. The number of cyber-attacks on higher education institutions has risen exponentially in the past decade, primarily because these...
Rising Issues with ChatGPT ChatGPT is an impressive language model created by OpenAI, which aimed to develop a conversational AI that could understand and respond to human input coherently and contextually. OpenAI released an initial version of ChatGPT to the public...
AgileBlue Product Data Sheet
AgileBlue is a SOC-as-a-Service platform that's proven to detect cyber threats faster and more accurately across your entire digital infrastructure and cloud. We provide 24/7 monitoring, threat detection and response to identify a breach before it occurs. Learn more about our products.
AgileBlue + Farmers Edge Case Study
As Farmers Edge has grown and expanded globally, their small IT team found it increasingly difficult to manage changes in their security posture and risk across key assets enterprise wide. 
Our ROI Guide is written with the purpose to help you position our SOC|XDR product to your leadership team. We've included thought leadership questions and answers, discussion topics that may arise and an easy ROI guide you can use while presenting. 
Endpoint Detection and Response (EDR) and eXtended Detection and Response (XDR) – though very similar acronyms- provides substantially different outcomes for cybersecurity teams. Check out our comparison guide.
Ready To Protect Your Company With AgileBlue?
Subscribe to our newsletter