Vulnerability Scanning
Complete Visibility of Your Network and Endpoints and Their Vulnerabilities 
Security is complicated. Your solutions shouldn't be.
AgileBlue is partnered with industry leader Nodeware for integrated vulnerability scanning. Through this partnership, AgileBlue can proactively identify all assets within a network and detect existing vulnerabilities. Vulnerability scanning can be deployed via an agent on a device-by-device basis or via a catch-all network sensor.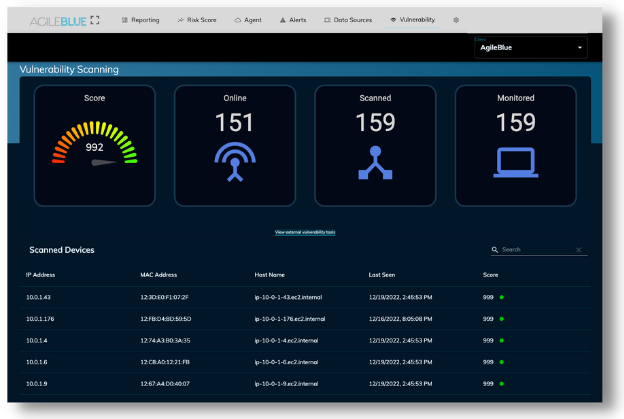 What is Vulnerability Scanning?
Vulnerability scanning allows you take a proactive approach to closing any gaps and maintaining strong security for your systems, data, employees, and customers. Unpatched vulnerabilities often result in data breaches, so it is important to identify and eliminate these security gaps and remove that attack vector.
Vulnerability scanning helps organizations identify possible ways an attacker could exploit vulnerabilities that might cause outages, allow unauthorized network access, or acquisition of privileged information. 
Why AgileBlue Vulnerability Scanning?
Complete and continuous visibility of your network, its assets, and the vulnerabilities that put your business at risk—all while running silently in the background during normal business hours.
Scans during normal business hours with no network impact
Complete visibility of network assets and vulnerabilities
Instant and continuous new device recognition and alerts
Meets compliance requirements 
On-demand, detailed reporting for leadership
Vulnerability risk ranking to prioritize actions
Vulnerability Management Whitepaper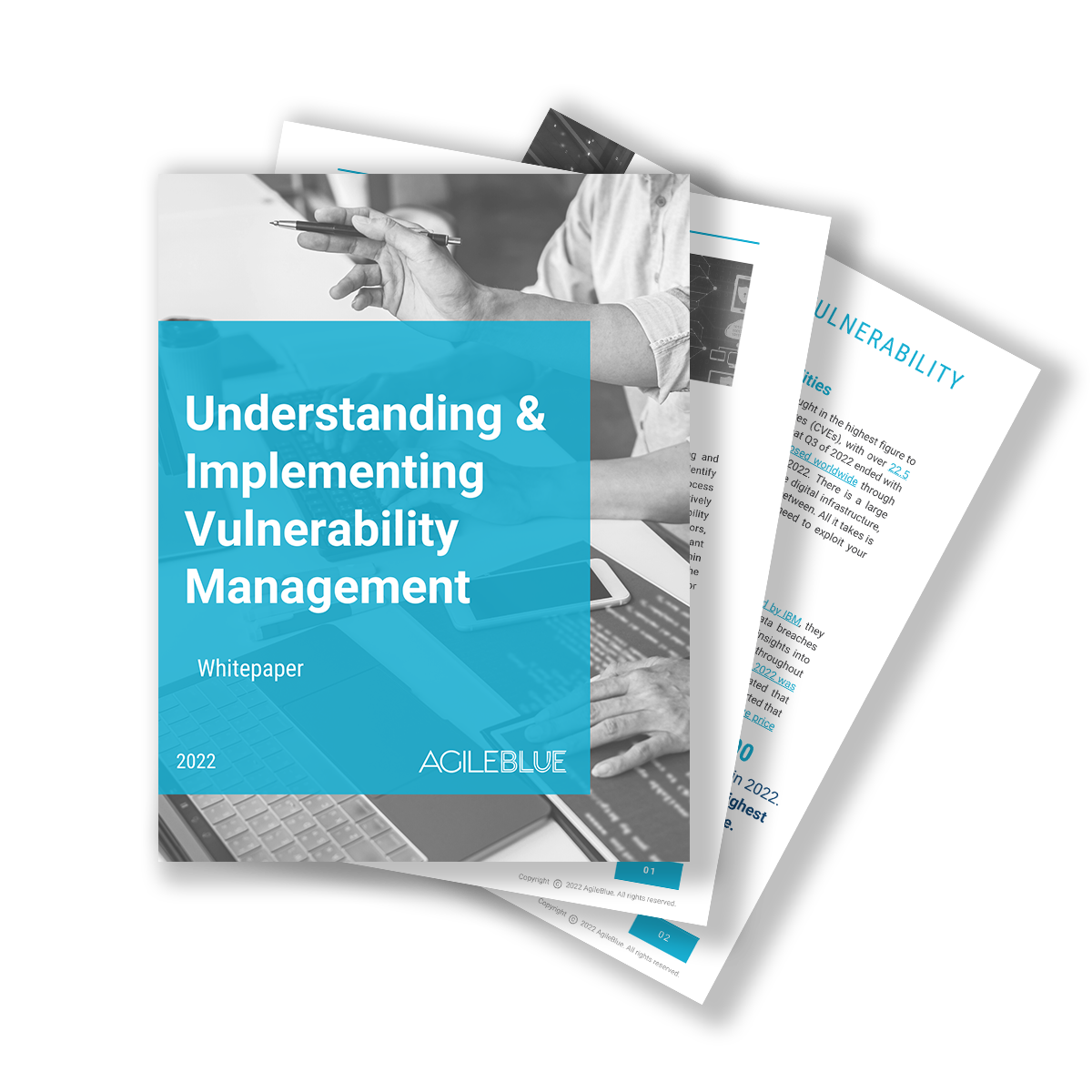 Vulnerability management seeks to close security gaps before they are exploited by threat actors, making it an integral step in avoiding cyber-attacks. It's important to note that vulnerability management isn't a set-it-and-forget-it approach. Discover how to implement vulnerability management into your cybersecurity strategy. 
Looking for the Best Fit Solution to Your Organization? 
AgileBlue's comparison chart helps alleviate the headache of searching and sorting through the seemingly endless cybersecurity solutions. Our comparison chart provides you with an overview of the cybersecurity landscape in comparison to our platform. We custom fit AgileBlue to you so you not only get the best technology, but the right technology for your organization.
Ready To Protect Your Company?
Subscribe to our newsletter