AgileBlue Acquires Crowe LLP MDR Platform
Combining two successful cybersecurity platforms that share a commitment to innovation with an emphasis on superior customer service.
"Both companies are fully committed to world-class 24x7 monitoring, detection, and response to keep our customers data protected from hackers. This transaction demonstrates our dedication to client success and enhances our technology, talent, and scale to meet the demands of a growing global market."
Crowe has sold its MDR services to AgileBlue
Crowe's cybersecurity consulting practice focuses on customized solutions to strengthen, enhance, and build mature data security programs for its clients. Crowe has sold its MDR platform to AgileBlue and is now a certified Global Alliance Reseller of the AgileBlue 24×7 SOC and XDR cybersecurity platform for its clients.
With this acquisition, AgileBlue will provide Crowe's customers with an expanded suite of cloud-based technologies and services to fortify their cybersecurity safeguards.
The transaction will allow clients access to additional threat detection and response services and data security services, as well as meet their needs for cloud-based technology providing the most effective and cost efficient 24×7 SOC|XDR-as-a-Service. 
Merging the Two Platforms
With the acquisition, AgileBlue is able to enhance Crowe's clients' access to expanded services, outlined in the diagram below. Clients now have the ability to address threats more efficiently with additional threat detection, threat analytics, and response capabilities further eliminating the expense of training and staffing a 24×7 SOC team.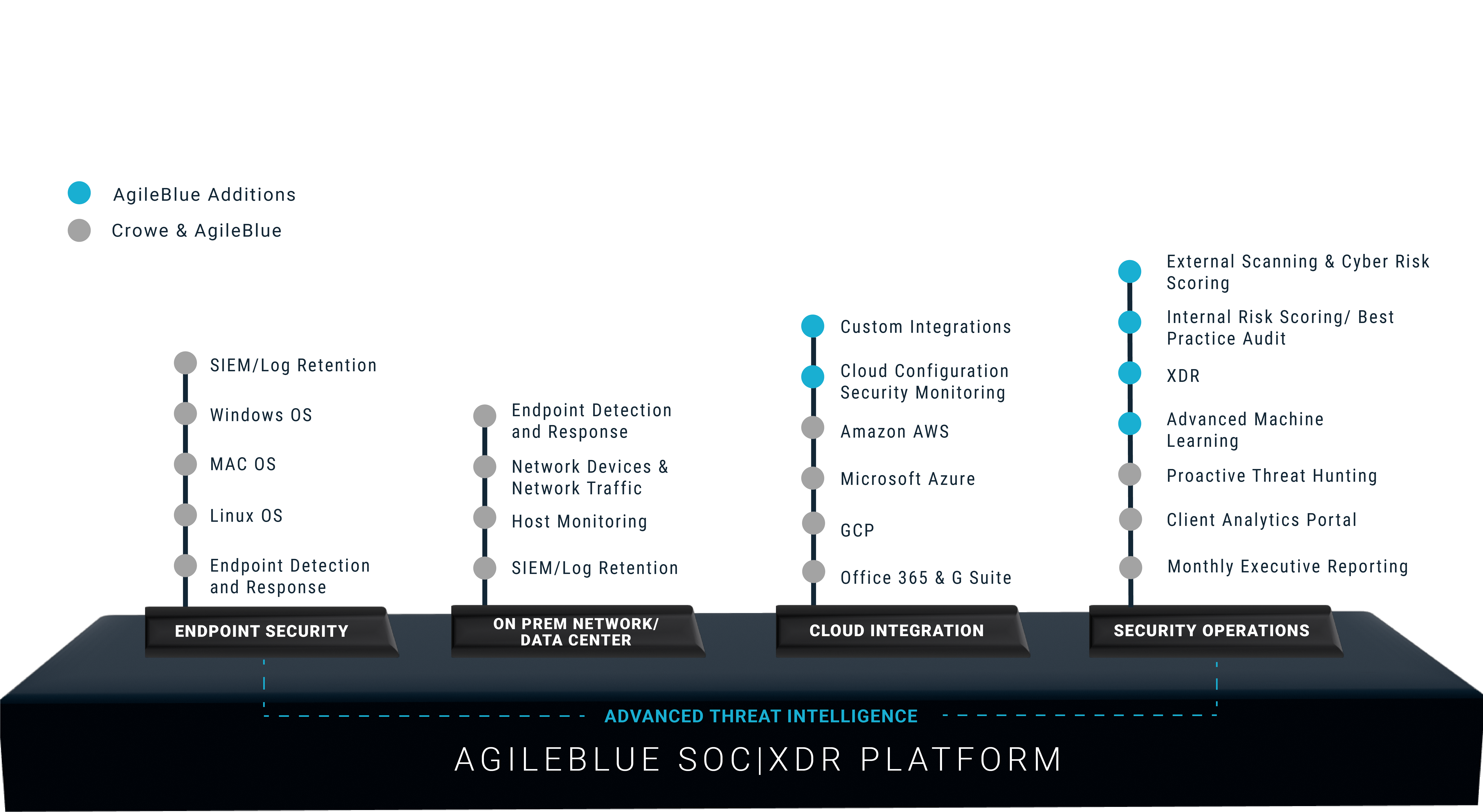 Ready To Protect Your Company With AgileBlue?
Subscribe to our newsletter